Give your guests a magical experience!
Dennis Watkins creates magical entertainment for companies and private clients who want to give their guests an unforgettable experience. He has perfected the art of making every audience feel special and making every guest feel like the star of the show.
Dennis is thrilled to offer The Magic Parlour to private groups, corporate events, team member rewards, client appreciation events and special occasions.
Use the form below to book an event at the Palmer House or to bring Dennis to your event.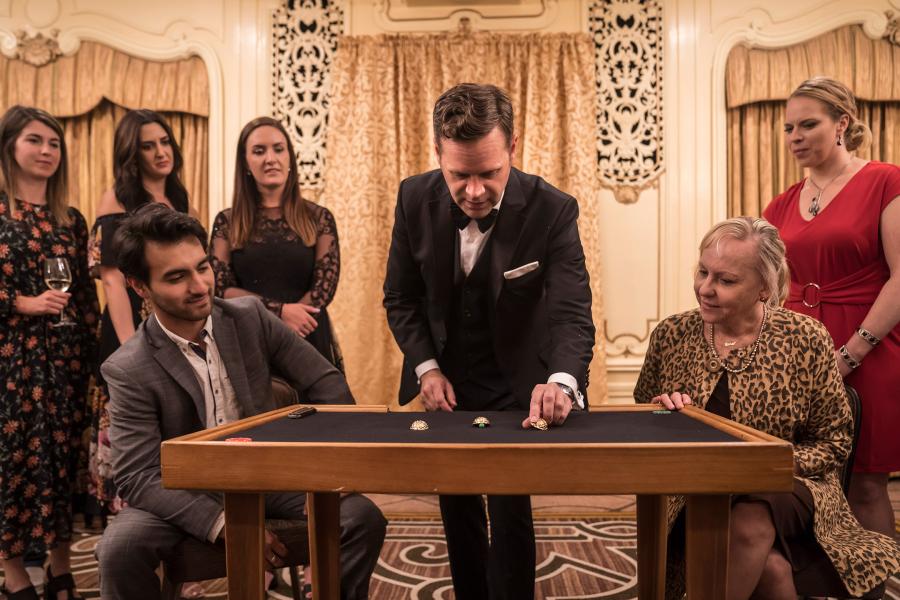 Group, Corporate and Private Event Options
Book Your Own Private Show
Choose any date & time outside of our ongoing performance schedule
Create a customizable event just for your guests (no public tickets will be sold)
Ideal for groups of 20 – 500 guests
Customized bar and dining options with the Palmer House's food & beverage team
Buy Out a Public Show
We'll close a currently-scheduled show to give your guests an exclusive performance
Ideal for groups of up to 50 guests
Wine, beer and soft drink selections included
Customized dining options with the Palmer House's Lockwood Restaurant or Potter's bar
Book Group Tickets for A Public Show
Great for companies or groups who do not require a private event
Great for groups of eight or more
Group dining available through the Palmer House's Lockwood Restaurant or Potter's Burger Bar
Bring Dennis Watkins to Your Event
Book Dennis Watkins to travel to your event, anywhere in the world
Customizable for groups of 2-10,000
Bespoke entertainment created for your guests
Book a Virtual Magic Experience
Bring world-class, interactive magic and mind-reading to your virtual event
Performed live on Zoom, Microsoft Teams, WebEx and other platforms
Customizable content
Tell us more about your event...