Blog Post #1: Events at The Magic Parlour
You are anything but ordinary so allow me to deliver extraordinary!
Over the past nearly 15 years, we've celebrated many special moments at The Magic Parlour from marriage proposals to milestone birthdays. It is my greatest honor to be a part of your most memorable life moments. Here are just a few examples of what we have commemorated with our magnificent guests!
Marriage Proposal: Are you getting ready to pop that very special question? At The Magic Parlour I've been a part of 6 perfect proposals! I work closely to help curate the proposal as a part of the main show or Encore room based on what you want and think makes it the most magical.
Birthdays: The Magic Parlour is engineered as a grown-up night out and my goal is to spark childlike wonder and joy in all of my guests. It really is the perfect event for the young at heart! Treat your loved one to a special Birthday date night or bring the whole family to celebrate. Consider adding on the VIP experience to enjoy even more fun and I'll make sure the Birthday person knows just how magical they are.
"THE PALMER HOUSE IS BEAUTIFUL AND DENNIS' SHOW IS THE PERFECT ACTIVITY FOR ABSOLUTELY ANY OCCASION. TREAT YOURSELF TO THE ENCORE ROOM AFTER THE PERFORMANCE - IT'S ABSOLUTELY WORTH IT!"
-PATRICK A., GOOGLE-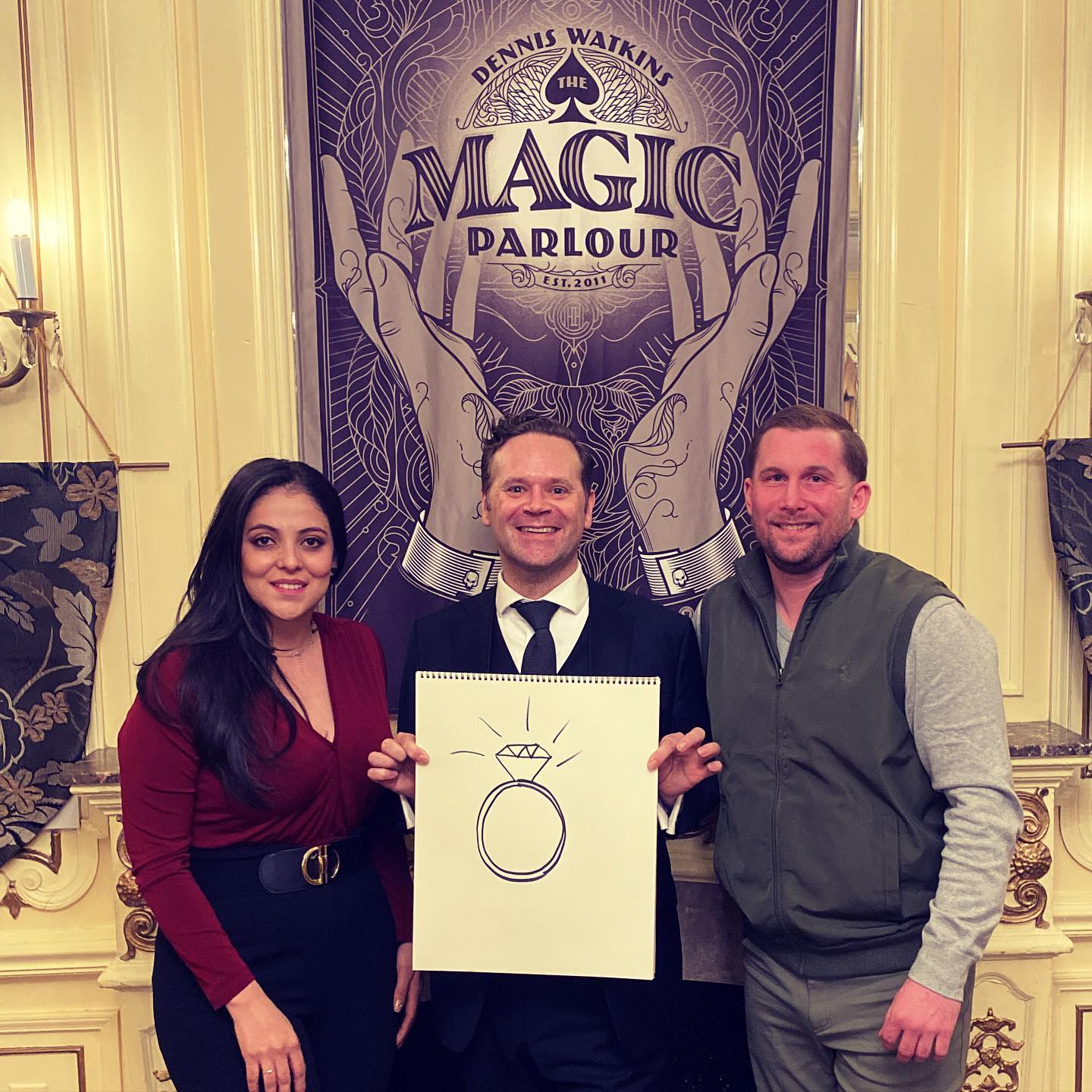 Bachelorette or Bachelor Parties: Situated in the heart of downtown at the beautiful Palmer House Hotel, The Magic Parlour makes for a fantastic night out for both Bachelorette and Bachelor parties - or a mixed nuptial celebration - when you are looking for something fun, lively, but a bit more upscale. We can work with you to add extra special moments for the brides and grooms, groups receive discounts, plus your ticket includes complimentary wine, beer, and non-alcoholic beverages.
Company and Team Celebrations:

Remind your colleagues that they are what makes your company magical! I love working with organizations of all sizes to offer a unique spin on a team event, recognition party, or full company celebration. At

The Magic Parlour

I've helped law firms thank their interns, companies honor a very special retiree, and businesses enjoy a relaxing evening out as a full group. I can offer group discounts or you can buyout the whole performance just for yourselves.




"One of the most unique and remarkable off-site events we've hosted for our team!"
-ComEd-

Family Reunion: Looking for a way to liven up your annual family reunion? Why not make this year a little bit more magical – literally! The Magic Parlour is made for guests 12 and up and makes for a great solution when you're seeking an event that will keep both your teenager and Grandma entertained. Let's make some memories together!
Dennis Watkins' The Magic Parlour performs 5 shows weekly on Fridays and Saturday at the historic Palmer House Hilton Hotel. For more information on groups and events visit us here.